There has always been a wide range of Craftsman garage door opener models. The brand has been around since 1927, is among the leading manufacturers of hand and power tools, and lawn and garden machines. It produces storage furniture, electric operators for garages, and is part of the Sears family of brands.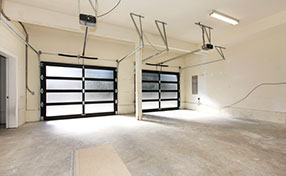 Our Garage Door Repair Experts Cover Home Needs
The company manufactures chain drive and belt drive openers. Both types use the same mechanism of operation whereby a motor turns a moving gear which drives the chain or belt along the rails. The drive component has an attached trolley which works to open and close the door via a moving arm. Steel chains retain great strength and durability while steel-reinforced rubber belt is very quiet.
There is a choice between Craftsman openers with AC motor and ones with DC motor. Since, the electric grid of the building delivers AC power; the DC-motor units have an inverter. In general, DC motors are more compact than their counterparts and operate more quietly. They allow the devices to have higher speed as well.
Over the years, the brand has introduced various technologies. The AssureLink system has a built-in wall timer which can be set to engage the automatic closing of the door after the car has exited the garage. The system features web monitoring of the door as well and DieHard battery backup system allows the opener to perform 20 cycles in the first 24 hours of a power outage.
The PosiLock system enables the secure locking of the overhead door system. Tri-frequency radio system reduces the risk of signal interference when the opener is operated via the remote control. Rolling code technology works to change the access code automatically after each use of the electric operator.
Each Craftsman garage door opener has an emergency release mechanism, integrated safety reversal mechanism, and arrives with a pair of safety sensors.